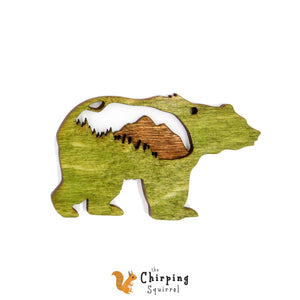 Celebrate your love of the outdoors with this rustic layered Bear & Mountain & Pine Trees Ornament on your tree. This bear is layered with a mountain in the background, and pine trees in the foreground. Cherish your time spent in the wilderness with this ornament souvenir.
MATERIALS: Birch Wood, Wood Stain, Jute Cord ONE-OF-A-KIND
DISCLAIMER: Each piece will vary slightly in color, density, grain patterns, knots, etc. Mother Nature creates beautiful & unique patterns all on her own, we simply strive to display it in creative ways.

Made in United States
Dimensions
4" l x 2.5" w x 0.3" h